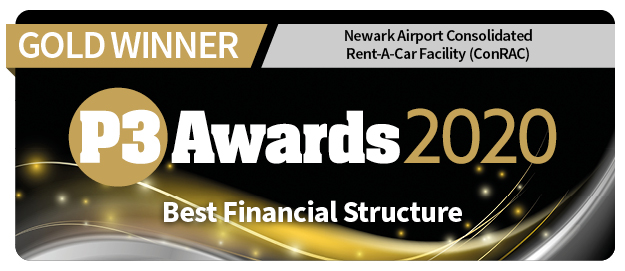 The Newark Liberty International Airport Consolidated Rent-A-Car Facility project has been awarded Best Financial Structure at the P3 Awards 2020. Financing for the $500 million project was led by Conrac Solutions Capital in partnership with Related Fund Management and Fengate Asset Management. Award judges noted the project as a "significant development in the procurement model for domestic P3 infrastructure projects."
Unique to any previously developed ConRAC, EWR ConRAC's model enables CFC rates to be pre-set for the life of the facility while also exempting the rent-a-car industry from coverage of shortfall revenue requirements and freeing up funds that airports may allocate to other projects.
Financing closed in May 2019 for the 2.7 million square foot ConRAC, which includes a public parking component. With 2,727 public parking spaces and 3,369 rent-a-car spaces to support 10 rent-a-car brands, the facility will be constructed on a 19.31 acre site. Completion of the public parking area is scheduled for September 2021 with the ConRAC opening in April 2023. Additional project information may be found here.