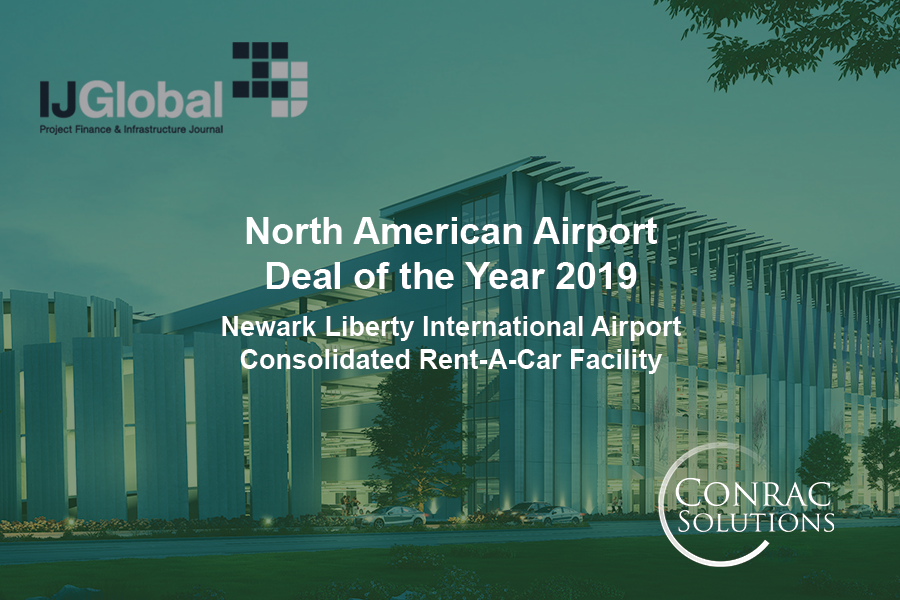 ICYMI: The Newark Liberty International Airport (EWR) Consolidated Rent-a-Car Facility (ConRAC) has been named Airport Deal of the Year in IJGlobal's Awards 2019 for the Americas. This $500 million project was led by Conrac Solutions Capital in partnership with Related Fund Management and Fengate Asset Management and made possible by the Port Authority of New York and New Jersey and the rent-a-car industry.
Highlighting the project's innovative financing structure, the IJGlobal Awards recognize excellence in deals spanning natural resources, transportation, telecoms and renewables. For more information about the IJGlobal Awards for 2019, you may download the awards magazine here.
Financing closed in May 2019 for the 2.7 million square foot ConRAC, which includes a public parking component. With 2,727 public parking spaces and 3,369 rent-a-car spaces to support 10 rent-a-car brands, the facility will be constructed on a 19.31 acre site. Conrac Solutions Project Delivery oversees project development, and once operational Conrac Solutions Operators will manage the operations, maintenance and lifecycle of the project under a full-term operations and maintenance contract. Completion of the public parking area is scheduled for September 2021 with the ConRAC opening in April 2023.
Additional information about the project may be found online here.