Conrac Solutions and affiliate Conrac Solutions Project Delivery joined the rental car industry and Austin-Bergstrom International Airport to celebrate the grand opening of Austin's new rental car facility last week. The facility was completed by CSPD on schedule and within budget. CS activated the CONRAC on Oct. 1, and continues to operate and manage the facility. We are excited to share the following news release highlighting the facility's grand opening in case you missed it.

October 29, 2015

AUSTIN, TEXAS – A ceremony celebrating the grand opening of Austin-Bergstrom International Airport's new Rental Car Facility took place Wednesday morning, October 28, 2015. Festivities included tours of the facility, live music, and a ribbon cutting.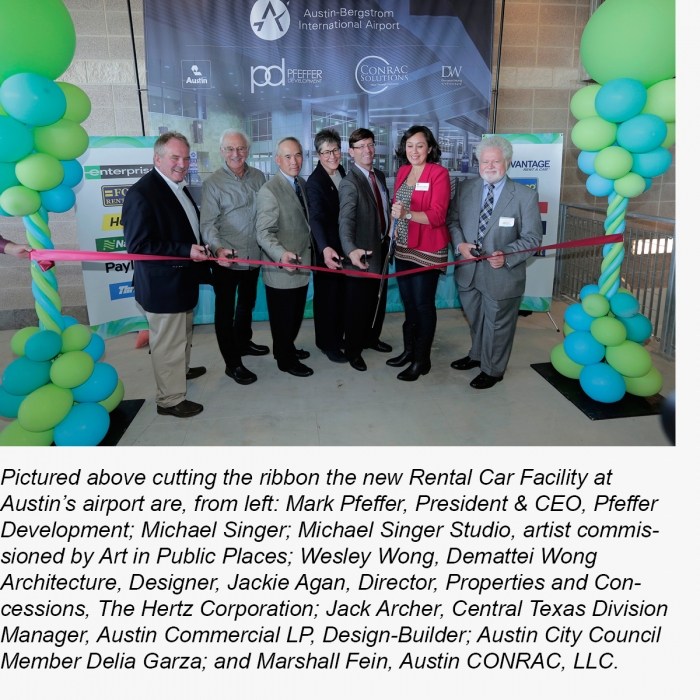 The opening of the new Rental Car Facility marks the completion, by private delivery, of the construction project known as CONRAC (Consolidated Rent-A-Car) Facility. The facility is a new five-level, 1.6 million square foot complex that consolidates all rental car operations, including vehicle pick up and drop off, car storage, cleaning, and fueling into a single facility. Eleven car rental agencies with more than 300 employees began operating at the facility on Oct. 1, 2015. More than 3,000 rental car vehicles per day will pass through the facility, with up to 5,000 rental car vehicles passing through on the facility's busiest days.

"Our experience with the team at Austin-Bergstrom International Airport was great. We believe the airport recognized the value in what the rental car companies proposed: bringing-in an experienced CONRAC team to bundle design, construction, financing, and deal term negotiations into a single delivery," said Mark Pfeffer, President and CEO of Pfeffer Development. "On our side, we saw the factors that were important to the airport, and worked hard to deliver so they could focus on other priorities. In the end, we achieved completion on the exact day we said we would and for the exact dollar amount promised: no change orders and no delays. Our team at Pfeffer Development and our sister company Conrac Solutions is proud of the result."

See a time lapse video of facility construction here: https://vimeo.com/143430558 and check out coverage of the event on KVUE, KXAN, Time Warner Cable News Austin and in Austin-American Statesman and The Daily Texan. Additionally, visit our Flickr gallery for more behind-the-scenes action.

More public parking is another benefit of the new Rental Car Facility. Previously, rental cars were staged for customers on the top level of the airport's original parking garage. By moving those vehicles to this facility, it opened up about 900 parking spaces for the traveling public. An additional parking improvement is that this building covered what was formerly part of Lot A, transforming it from an open air lot, exposed to the elements, into a new parking garage with about 800 spaces.

"As Austin grows, attracting more visitors for both business and leisure, this facility improves our customer service to these travelers," said City of Austin Aviation Director Jim Smith. "The Rental Car Facility adds capacity to better meet the demand of our customers."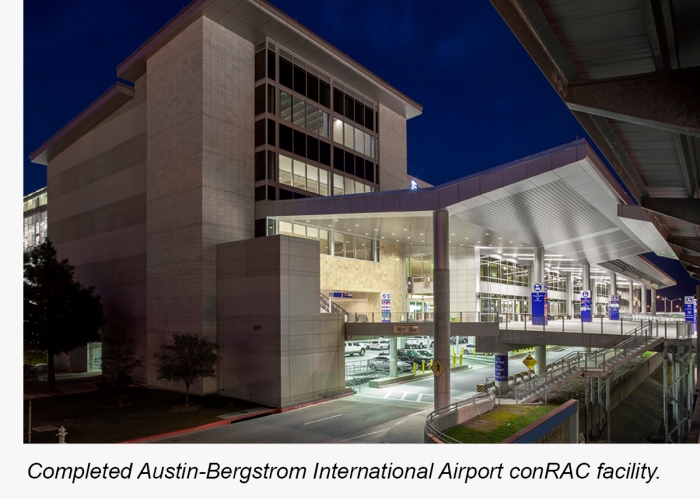 All car rental operations are now consolidated into this one facility. Previously, each car rental company operated separate service centers to clean and refuel cars, which were located a mile away from customer pick up. Cars were driven back and forth between the service center and customer pick up. Consolidating fueling, cleaning, storage, and customer pick up into one facility increases efficiency. Eliminating the need to ferry cars between the service center and customer pick up reduces fuel consumption, traffic on airport roadways, and vehicle exhaust. The reduction in vehicle exhaust is expected to lower carbon dioxide emissions by 411.7 tons per year.

"We're excited about what this facility provides: the efficiencies to our operations, the environmental impact on Austin's air and water, and the positive impact it will have on customer service," said Jackie Agan, Rental Car Industry Chairperson and Director, Properties and Concessions for The Hertz Corporation.

The project was constructed to meet LEED® Silver certification for New Construction from the U.S. Green Building Council and is moving through the LEED® certification process. Additionally, the builder worked closely with the City of Austin of Small and Minority Business Resources Department and exceeded goals for small and minority business participation.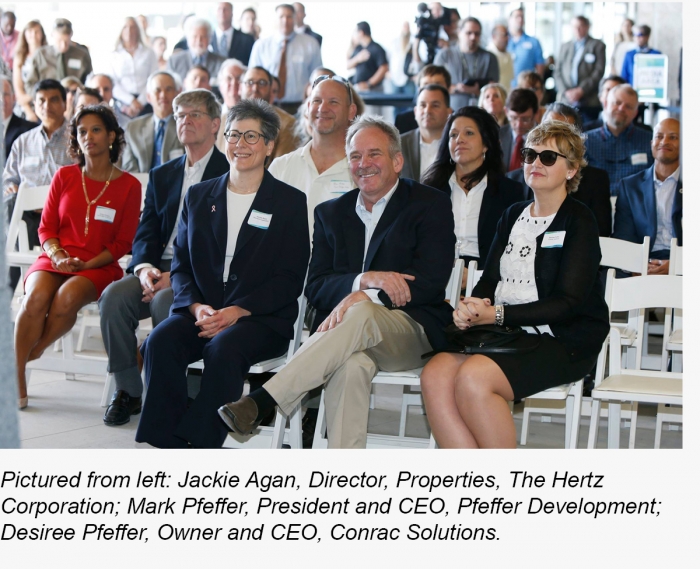 Conrac Solutions offers comprehensive expertise in every aspect of consolidated rental car facilities; including pre-development and asset management, project financing, design-build construction, activation-operations and project management. To learn more about Conrac Solutions visit their website: www.conracsolutions.com.

Austin-Bergstrom was named one of Travel & Leisure's World's Best Airports 2015, http://www.travelandleisure.com/worlds-best/airports#domestic. Fly Austin on new nonstop destinations including: Frankfurt, Germany on Condor, www.condor.com; Toronto, Canada on Air Canada, www.aircanada.com; and St. Louis and Orange County on Southwest, www.Southwest.com. Get to Miami on American, www.aa.com. Take Allegiant's newest route to Memphis, www.allegiant.com. Portland flights begin on Alaska Airlines, www.alaskaair.com, November 5, 2015. Find Austin nonstop routes and more with the free interactive flight guide on www.abia.org. Connect with us on Twitter, @AUStinAirport, and Facebook, www.facebook.com/abia.

Media contacts:
Conrac Solutions
Cassidy Davis, 206/499-9505

###