March 9, 2015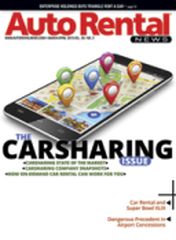 SEATTLE - Rental car facility operator Conrac Solutions is making headlines again this month with an article in the March/April print issue of Auto Rental News. Auto Rental News interviewed CEO Desiree Pfeffer and President Matt Fairbanks about Conrac Solutions' innovative facility management at consolidated facilities. The value for the rental car industry of offering outstanding service while lowering operational expenses has positioned Conrac Solutions to grow from one location in 2007 to six locations nationwide.
Click here to read the full Auto Rental News Article
Over the next year, Conrac Solutions will continue to build capacity and national reach while remaining committed to providing hands-on care at each facility. Last fall, Conrac Solutions was selected as the RAC Representative for the Quick Turn-Around (QTA) facility under development at the Portland International Airport, and has deepened their industry expertise by hiring construction management and rental car industry veteran Sue Ellen Edwards.
For additional information contact Amy Barnes, Vice President Client Relations at:This email address is being protected from spambots. You need JavaScript enabled to view it.